Financial Reports and Audited Financial Statements of the African Union (AU)
Type :

Reports

Language :

English

Publisher :
That is what thousands of people across the continent pray for each day. Victims of forced displacement arising from civil strife, ethnic clashes, environmental factors, various forms of societal discrimination and many other factors that cause them to flee from their homes seeking safety.
This edition of the AU Echo in line with the 2019 Theme "The Year of Refugees, Returnees and Internally Displaced Persons" examines the myriad of issues faced by refugees and how the African Union and its partners are working
to not only address the issue of those who have fled their homes, but also identify and resolving the root causes of
the displacement. This year's theme also reminds us of the role we have to play as Africans' to ensure that we not only provide a safe haven for those who are displaced but that we offer them the opportunities to live a life of dignity and self sustenance in our communities. Our compassion should never fail us as we look at those who seek refuge recall the words of Warsan Shire "No one puts their children in a boat unless the water is safer than the land"
Africa's youth were at the forefront this year with the launch of the 1 Million by 2021 initiative. The initiative which was launched in April 2019 and which is the 1st of its kind by
the African Union, aims to reach 1 million young Africans practically through providing opportunities in Employment, Education, Entrepreneurship and Engagement. We salute the various partners who came on board to support this programme and highlight their pledges in this edition of the magazine.
Read More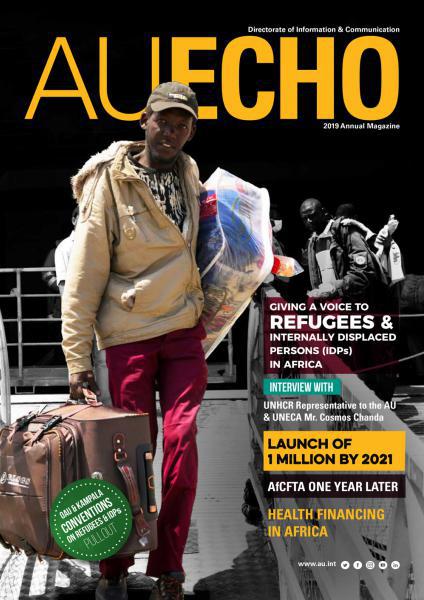 Working Document
May 15, 2016
[English ,PDF 27.27 MB]